Great Expectations: 9 Points on the Global Presence of LNG
Charles Dickens is more closely linked to Liquefied Natural Gas (LNG) than you might think. He is attributed with originating the phrase "It's a gas," as it is derived from his quote, "Everything is gas and goiters." (A goiter is the swelling of the thyroid gland. Let's move on, swiftly ...) Here are nine other facts about LNG to show its global influence:

1. Japan is the largest consumer of LNG in the world, accounting for approximately 40%. In addition to this, over half of the shortfall from the loss of nuclear capacity from the earthquake in March is expected to be met by ramping up LNG imports.
2. LNG volume is 600 times smaller in its liquid form than when as a gas. It is cooled to -260°F for shipment and storage -- hence its appeal to be transported long distances by tankers.
3. Global output of LNG reached a record of 21.8 million metric tons in March, up 15% this year on 2010 levels. The rise is in large part attributable to an increase in Qatari production.
4. South Korea is the second-largest consumer of LNG in the world. The UK is set to pass Spain this month to become the third-largest consumer (meeting over a quarter of the UK's total natural gas demand so far this year). The rapid increase in UK imports is overwhelmingly attributable to Qatari supply:
[Click all to enlarge]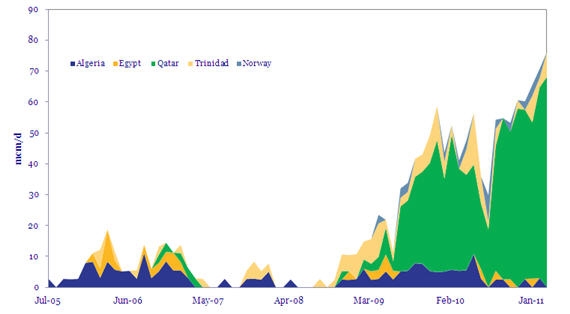 UK
LNG Imports by Country; Green = Qatar. (source: Bloomberg)
5. To build an LNG export terminal in the US, it takes up to six years; up to half of this time for the engineering and permit approval, and the other half for construction.
6. Qatar is the largest exporter of LNG in the world, and holds approximately a quarter of the world's liquefaction capacity.
7. The US imports approximately 1 Bcf/d of LNG, currently 1.5% of total supply this year.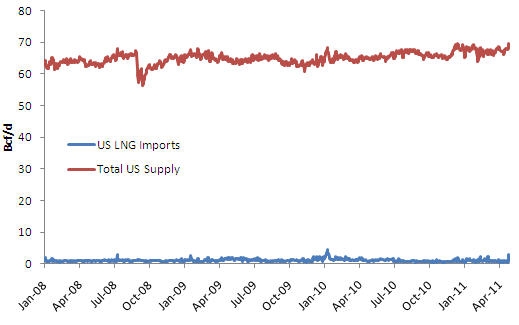 US LNG Imports vs Total Supply: Insignificant (Source: Bentek)
8. The only LNG export terminal in the US (in Kenai, Alaska)
is being closed
; hence the next fully functioning export terminal could be as far as half a decade away.
9. China is to
quadruple
its imports of LNG by 2015 to 25 million metric tons.
LNG continues to have a growing presence, even though the US may not currently be a large influence on the global market. Given the increasing appetite for LNG from Asia, by the time we reach the middle of this decade, the global demand and supply picture will likely be very different.
Matt Smith spent his twenties working in investment management in London, England, before swapping his bowler hat for a banjo and moving to Louisville, KY, and Summit Energy. Matt is a Commodity Analyst at Summit, and produces a number of pieces of research across a number of global commodities....
More
Disclosure: I have no positions in any stocks mentioned, and no plans to initiate any positions within the next 72 hours.