The Coming Natural Gas Revolution
Despite the current lackadaisical price action in natural gas, the whole energy market -- if not the whole world -- is aware that the natural gas revolution is coming. It is just that at the moment, it sounds like a whisper.
This latest rumination about the future of natural gas was kick-started by a colleague mentioning The Pickens Plan earlier this week. While being up to speed with the potential longer-term impacts on natural gas by LNG exports and shale plays, I wanted to know more about T. Boone Pickens' plan for a future fueled by the stuff. So some digging inadvertently sent me off on a wild goose chase through all things natural gas-like; here are some bits and bobs I discovered along the way:
This first tidbit relates to natural gas transportation (also one of the pillars of The Pickens Plan). But this is not just the transportation fuel of the future, it is of the now. Amazingly, 61% of vehicles in Pakistan are currently powered by natural gas, while the number in the US is … 0.04%.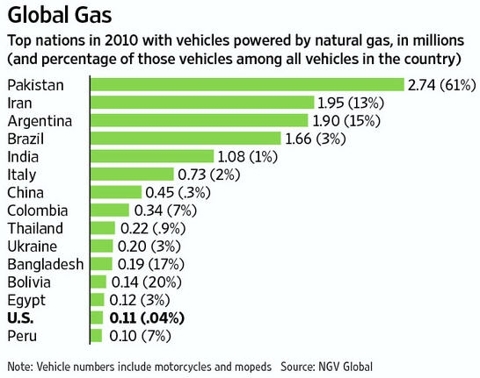 This is because compressed natural gas (CNG) vehicles are more prevalent in the Asia-Pacific region and in Latin America as these regions look to combat rising fuel costs. For the US to increase the number of natural gas-powered vehicles on the road, it would likely take government subsidies; higher costs are involved to configure vehicles to run on natural gas than diesel while the economies of scale are not in place to mass-produce CNG vehicles.
The idea of natural gas for vehicles dovetails nicely into The Pickens Plan, which is based on four pillars:
Create 22% of electricity in the US from wind .
Build a 21st century backbone electrical transmission grid.
Use natural gas to replace imported oil as a transportation fuel.
Incentivize homeowners and owners of commercial buildings to upgrade their insulation and other energy savings options.
According to the plan, nearly 33% of every barrel of oil imported by the US is used by 18-wheelers to move goods across the country. The Pickens Plan targets fleet vehicles such as buses, taxis, delivery trucks, and municipal and utility vehicles to be replaced by natural gas-powered vehicles. This is a sentiment echoed by the government in their energy policy document, A Blueprint For a Secure Energy Future, released in late March of this year.
To target such demand growth in natural gas means an incredible reliance placed on the shale revolution coming to fruition. Yet these fears can be assuaged by taking a look at a simple snapshot of the EIA's projection for shale growth in the latest Annual Energy Outlook:
[Click all to enlarge]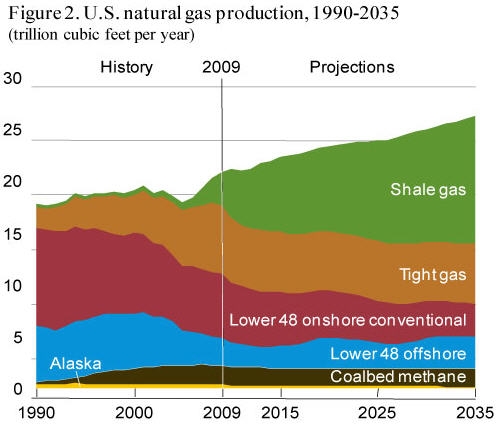 Despite the current backlash experienced by shale and hydraulic fracturing (fracking), the dependency placed on it in the recent energy policy release by the government only goes to highlight that environmental issues will be resolved, most likely through increased regulation.
Another large piece of the long-term natural gas puzzle is LNG exports. As the above chart illustrates, the domestic supply of natural gas is to ramp up in coming years. One way for domestic producers to take advantage of higher global prices is to export natural gas in its liquid form ((LNG)). The problem is, to build an LNG export terminal takes up to six years; up to half of this time for the engineering and permit approval, and the other half for construction.
There are currently two terminals proposed in the US -- one at Sabine Pass, LA, and another at Freeport, TX, which would create up to 4 Bcfd of export capacity. The terminal at Sabine Pass received approval to export from the Department of Energy in May, and now awaits approval from the Federal Energy Regulatory Commission. The Freeport site submitted its application to the DOE in December 2010. Based on current timelines, LNG exports should be underway from 2015 onward.
So where does this leave us? After the announcements so far this year, from energy policy to LNG export approvals, the forward curve is weighing up the potential impact from these changing dynamics. While immediate near-record supply continues to weigh on the front end of the curve, the expectation for higher demand as we reach the middle of this decade is driving up prices at the longer end. Given the timeframe for these impacts to take hold, there is likely to be a whole lot more talkin bout this revolution before it actually takes place.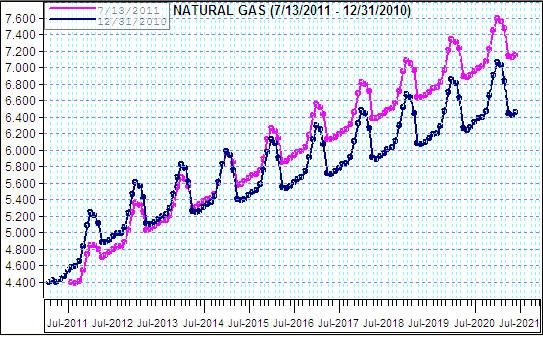 Matt Smith spent his twenties working in investment management in London, England, before swapping his bowler hat for a banjo and moving to Louisville, KY, and Summit Energy. Matt is a Commodity Analyst at Summit, and produces a number of pieces of research across a number of global commodities....
More
Disclosure: I have no positions in any stocks mentioned, and no plans to initiate any positions within the next 72 hours.