A potential global slowdown, and a pitched battle over taxes and spending in Washington, are unlikely to deter stock markets from rallying further, Wharton School finance professor Jeremy Siegel told CNBC on Monday.
The uber-bullish Siegel told CNBC's "Squawk Box" that regardless of whether President Barack Obama or his challenger Mitt Romney prevails in next month's general election, he expects some type of resolution on the so-called fiscal cliff that has worried investors and businesses about a mix of higher taxes and deep public spending cuts.
(More From CNBC: How Much the "Fiscal Cliff" Could Cost You.)
"The most important event won't be on Election Day, it will be after Election Day as the 'fiscal cliff' gets nearer and nearer," Siegel said. "The resolution of that one way or the other is going to be the market moving event" that could add anywhere between 500 and 1,000 points to the Dow Jones Industrial Average (Dow Jones Global Indexes: .djia).
"What the market is looking for in this quarter, and what I'd like to see, is a six to nine month extension so that the next Congress can work on" a final resolution, Siegel said. He added there was "no way" legislators could hammer out a permanent solution - such as the Simpson-Bowles menu of fiscal fixes - in the near-term.
"If you resolve that uncertainty, I think you're looking at an 'up' market," the academic said.
As congressional Democrats and Republicans squabble over whether to hike key taxes crucial to investment decisions, Siegel said his "worst-case scenario" was a tax rate of 23.8 percent on capital gains and dividend taxes. That would be enough to allow stocks to extend their rally, even in a sluggish economic environment, he said.
"We don't need a lot of growth of earnings to actually have the stock market do well," Siegel added.
As the U.S. housing market stages a comeback, Siegel said the sector could add anywhere between 0.5 and 1.5 percentage points to U.S. gross domestic product in 2013.
Investors looking to get back into the market in October could push the Dow Jones Industrial Average [.DJIA 13586.12
148.99 (+1.11%)
] even higher, Wharton School finance professor Jeremy Siegel told CNBC on Monday.
"Going to the 15,000 level, which a few months ago people were very skeptical of that, we're talking about the end of 2013. We only need to go up 10 percent from current levels. I'm not saying it's a slam-dunk. Nothing's a slam-dunk in the market. Odds are 3-to-2-to-1 on that," he said on "Fast Money."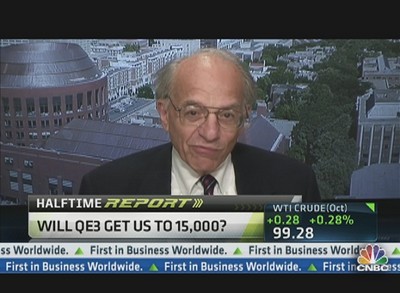 Siegel, whose bullish prediction made headlines earlier this year, said Dow 17,000 was even more likely now.
(
.DJIA
)
13586.12
148.99

(

+1.11%

%)
Dow Jones Global Indexes
"The 17,000, when I first gave the prediction late last March, I said it was a 50-50 proposition. But I think that that's a goal that is very, very attainable given the market circumstances," he said. "That's what the statistics show, that there was almost a 50 percent chance on past historical valuations and periods that the market would reach that 17,000 by the end of next year."
Since March 2009 lows, the S&P [.SPX 1452.32
11.65 (+0.81%)
] was up 116 percent, the Dow was up 107 percent and the Nasdaq [COMP 3125.48
9.25 (+0.3%)
] was up 150 percent.
(Read More: Jeremy Siegel: Dow Could Hit 17,000 Next Year)
Siegel suggested that those who missed the stock market rally could provide another boost.
"When you take a look equity positions of a lot of money managers, they're still underinvested in stocks. Remember the old saying, 'Sell in May and go away'? It worked for two years. A lot of people did that," he said. "They want to come in again in October, and they find themselves way behind the 8-ball given this summer rally."
More From CNBC